The Coincidence of Coconut Cake by Amy E Reichert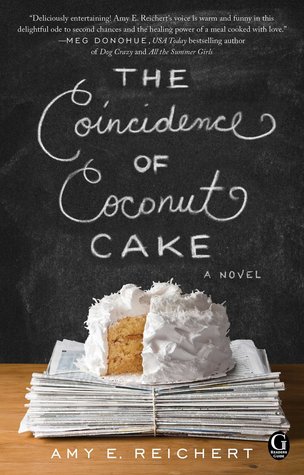 In downtown Milwaukee, Wisconsin, Lou works tirelessly to build her beloved yet struggling French restaurant, Luella's, into a success. She cheerfully balances her demanding business and even more demanding fiancé…until the morning she discovers him in the buff—with an intern. Witty yet gruff British transplant Al is keeping himself employed and entertained by writing scathing reviews of local restaurants in the Milwaukee newspaper under a pseudonym. When an anonymous tip sends him to Luella's, little does he know he's arrived on the worst day of the chef's life. The review practically writes itself: underdone fish, scorched sauce, distracted service—he unleashes his worst.The day that Al's mean-spirited review of Luella's runs, the two cross paths in a pub: Lou drowning her sorrows, and Al celebrating his latest publication. As they chat, Al playfully challenges Lou to show him the best of Milwaukee and she's game—but only if they never discuss work, which Al readily agrees to. As they explore the city's local delicacies and their mutual attraction, Lou's restaurant faces closure, while Al's column gains popularity. It's only a matter of time before the two fall in love…but when the truth comes out, can Lou overlook the past to chase her future?
So, I wasn't blown away by this book, but it wasn't terrible either. Definitely a light read for a rainy day. I enjoyed the love story between Lou and Al, but at the same time I felt like the plot dragged on (extremely slow) and was predictable. And honestly, the romance wasn't really believable to me either. Where was the passion? The lust? I think the book was almost done before they even kissed. All in all, a quick read (
although, it took me a few weeks to finish if that says anything
), kind of cheesy but kind of cute at the same time. I've read a lot of food oriented books in the past including, Comfort Food - Love! - and this one was kind of
meh
for me. I expected a lot more.